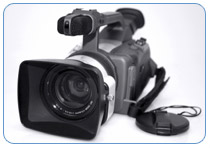 Damron Investigations of Michigan utilizes cutting edge technology, techniques & the best information when conducting investigations.
Suspicious that your spouse may be cheating? Concerned about the work conduct of an employee? Worried about the behavior of a babysitter while you are away?
Our highly skilled and well trained investigators will get the video footage of suspected cheating spouse that you require.
If it's happening, we'll get it on tape.
Videotaped infidelity is undisputable evidence of an unfaithful partner. Experience and expertise is what you get when you hire the services of Damron Investigations. We do not limit the scope of our spouse tracking from the window of a car. Our professional investigators are experienced in obtaining video footage in malls, work places, and hard to access remote rural areas. Damron Investigations will capture your cheating spouse's activities accurately and discreetly.
We offer video surveillance services to meet your specific needs. Whether your concern is personal or professional, we will provide the best quality results.
We only use state of the art techniques and equipment while conducting a video surveillance.
Our 25+ years of professional investigation experience along with our resources & modern investigative techniques ensures that our clients get the results they need.
If you suspect your spouse of infidelity, contact Damron Investigations now . Would you like to learn about our hard drive data retrieval services ?
When you need answers, look no further than Damron Investigations. Contact Damron Investigations of Michigan when you need discreet, professional investigation services.