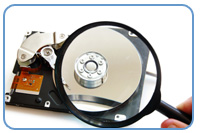 Damron Investigations of Michigan offers a comprehensive high tech data recovery services.
When you need to recover data, Damron Investigations will get the results you need.
Just some of the data & computer information retrieval services we offer include:
Hard drive data recovery
Flash drive data recovery
Micro & portable drive data recovery
Password retrieval
Many other computer related services
We get our clients the results they need!
Home computers, laptops, smart phones & many other portable computing devices are all around us. You would be hard pressed to find a person, family or business that does not use at least one computer. We can incorporate data retrieval into many investigations to ensure that we provide the most comprehensive information possible.
Computer hard drives have become the modern "filing cabinet" -- often holding much or all of a persons personal & business information. The fact is that hard drives can and do fail. Loss of data can leave you and your business in shambles! Damron Investigations can help!
We use the most modern techniques & tools available to get you quality results?
When you need data retrieval or other high tech services, look to Damron Investigations. Contact Damron Investigations of Michigan to learn about our full list of investigative services.