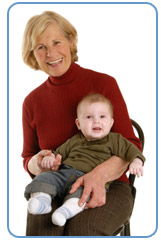 Damron Investigations of Michigan utilizes cutting edge techniques & the best information when conducting background searches.
Need to find background information before making the decision to hire a nanny or home child care provider?
The Nanny you choose may have a clean criminal record; however, some may have substance abuse issues or undocumented criminal brushes with the law. Often many issues that can go undetected -- leaving you in the dark when making the critical decision of who to hire for child care. Past references are often reluctant to tell the whole truth since a family kinship may have developed, or they are worried about the legal repercussions of telling a horror story about their experience with a nanny or child care provider.
The news today if all too full of terrible stories about child care situations gone tragically wrong. Deciding on a child care provider is one of the most important decisions you will ever make. We encourage you to make that decision armed with the best information available.
Damron Investigations is standing by to gather all the information you need about a potential nanny or child care provider.
Our 25+ years of professional investigation experience along with our resources & modern investigative techniques ensures that our clients get the results they need.
Dont leave your child in the care of a stranger, contact Damron Investigations now . Would you like to learn about court record search services ?
When you need answers, look no further than Damron Investigations. Contact Damron Investigations of Michigan when you need discreet, professional investigation services.