For any employer, making a hiring decision is critical to the success of your business! Making the right hire is easier when you get the detailed background information you need.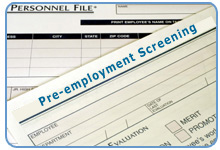 When interviewing a potential employee it is easy to ask a list of questions, only to hear the best answers. Sifting for the truth in those answers is not quite as easy.
Any smart applicant is going to put on their best presentation and do a reasonable job selling themselves, but with todays competitive job market the reality is that many applicants will falsify and embellish a job application & resume. Have you ever received a resume that "didnt" make the person appear flawless?
Another reality is that most former employers will not give a reference on a previous employee because the fear being sued. Even giving a glowing reference can end up disasterous! Consider a business owner that hired an employee based upon a wonderful reference from a former employer--only to learn that the employee was actually previously terminated for theft. The new employer sued the previous employer for misrepresentation!
If you have the daunting task of selecting among potential employees, we can help!
Damron Investigations will gather the most accurate, comprehensive background information on your job candidate, allowing you to make an informed hiring decision.
The news is full of stories of workplace violence, fraud, employers held liable for employee misconduct - and worse! Make the best decision and call us for all the information you need.
We have access to the most comprehensive information available. . Contact Damron Investigations of Michigan when you need to know!