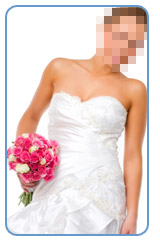 Damron Investigations of Michigan utilizes state of the art investigation methods, techniques & tools to ensure our clients the most accurate information available. We strive to provide excellent customer service and the utmost discretion.
Do you really know the person you are planning to marry?
Marriage is a wonderful thing! Finding love & happines and building a life together with your soul mate is a reason for celebration. Unfortunately, too many marriages end in a mess when a bit of background information presents itself. The hassle, pain & cost of divorce is devastating.
It's well worth taking some care to truly find out about the background of the person you may be planning to spend the rest of your life with. Especially with 2nd marriages, or marriages later in life; dont be caught unaware!
Damron Investigations provides absolute discretion coupled with the best customer service.
Our 25+ years of professional investigation experience coupled with our resources & cutting edge investigative techniques ensures that our clients get the results they need.
You may also want to consider a business background search if a potential spouse claims to own or partner in a business. Would you like to learn about our business background check services ?
When you need answers, look no further than Damron Investigations. Contact Damron Investigations of Michigan when you need discreet, professional investigation services.