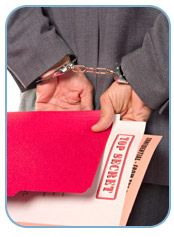 At Damron Investigations we utilize state of the art investigation & interview method to ensure our clients eliminate the risk and threat of harm to their business & intellectual property. We stop at nothing to provide excellent customer service and the utmost discretion.
We provide the most comprehensive business protection services available!
Corporate espionage is a reality that costs businesses, large and small, billions of dollars in lost revenue each year.
Often an unscrupulous business plants an employee "mole" in the business of a competitor for the sole purpose of stealing proprietary information & intellectual property. A corporate spy can even be a highly regarded member of a company's team - someone who has been compromised by the idea of financial gain or simply a disgruntled employee wishing to "get back" at their employer.
Types of corporate espionage may include:
Passing proprietary information on product launch schedules
Stealing new product designs and concepts
Stealing client contact lists
Violation of non-compete clauses
Violation of non-disclosure agreements
These are only a few of the potential types of corporate espionage that can harm your business - and they may be happening to you right now.
We are experts at identifying and eliminating corporate espionage.
Damron investigations provides the most comprehensive investigative methods & interviews for potential deception. We also provide expert analysis and consultation to ensure that our clients prevent potential threats in the future. We also provide the most detailed pre-employement screening available.
If you suspect that your business & intellectual property has been compromised, contact Damron Investigations of Michigan. We will root out any threats to your business & ensure you are protected.